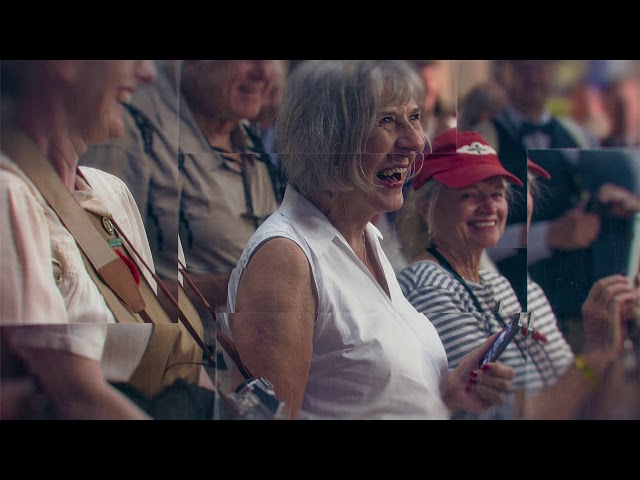 "BY FAR THE MOST STANDOUT PIECE OF CONTENT WE HAD THIS YEAR AT OUR EVENT"

Goodwood Revival: Cars In Film
Strategy: "the reason for" 
Production: "make it"
Alive: "the movement"
Client: Goodwood
Location: Goodwood Revival, Chichester
Our Goodwood Revival SPARK
Having previously worked on client projects held at Goodwood Festival of Speed, we were delighted to be asked to work directly with Goodwood at their legendary Revival event.
All contributing exhibitors bring their best for this, the UK's biggest revival motor show, so the event itself has to surprise and excite attendees each year. 2019 marked the 11th year of the Earls Court Motor Show – which takes place within the beautiful art deco building at the heart of the Goodwood Circuit – and organisers wanted to pull out all the stops. Our project was to design, deliver and manage the 'Cars In Film' display, a regular feature at the three-day event.
Partnering with the event's sponsor, Sky Cinema, we developed a totally immersive experience, to transport visitors into the all-time classic, 'The Italian Job'. We created a working soundstage to re-enact the iconic colonnade chase scene (as well as staging other beloved scenes from the film), using lighting and props from the 1960s, alongside a set crafted by us; authenticity and impact were our priority.
With the soundstage at the centre of the event, the main goal for Goodwood and Sky Cinema was to achieve heightened visitor interaction. With professional actors, stage extras and stunt drivers alongside genuine 1960s lights and cameras, guests were transported to the original film set, convincing enough to believe Michael Cane could appear any minute!
We worked with Goodwood's amazing content team, to ensure we sourced vehicles that would achieve real-time provenance, and enlisted stunt drivers, to allow us to run the iconic scene (with all three Minis!) for guests to enjoy. It was a truly ALIVE experience, with the Collaborate Global SPARK alight to its brightest.
"By far the most standout piece of content we had this year at our event"
"An outstanding immersive product"
"Collaborate Global worked hard to interpret our challenging brief, satisfying the needs of the event and those of the sponsor"
"[The set] helped re-invigorate a space that we've been keen to develop for years"
-Henry Bass, General Manager, Goodwood Revival